Jetzt kannst du deinen Lieblings-Kaffee ganz einfach per Knopfdruck genießen
TASSIMO kaffeemaschine inklusive

Erhalte eine TASSIMO Maschine für nur 1 €.
Große auswahl an kaffees und heißgetränken

Entdecke die riesige Vielfalt von TASSIMO und stelle dir deine eigene Auswahl zusammen.
Kostenlose regelmäßige kaffeelieferung

Kostenlose regelmäßige Kaffeelieferung zu dir nach Hause.
Wie funktioniert ein TASSIMO Abo?
3 einfache Schritte zum Machine Abo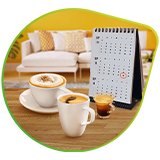 Choose your plan
Wieviel Kaffee trinkst du?
Wähle das Abonnement, das zu deinem Kaffeekonsum passt, und genieße deine TASSIMO Lieblings-Kaffees!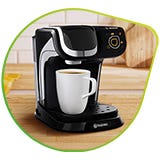 Select your machine colour/ Wähle Deine Maschine
Wähle deine Maschine
Für nur 1 € kannst du jetzt eine eigene TASSIMO Maschine erhalten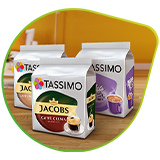 Manage your coffee selection
Wähle deine Lieblings-Getränke aus.
Wähle deine Lieblings-Getränke für die erste Lieferung. Später kannst du deine Auswahl bei jeder neuen Lieferung anpassen.
Coming soon...
Für TASSIMO-Abos wird eine gültige Kreditkarte benötigt, weil die Zahlungen automatisch erfolgen (Maestro Kreditkarte, VISA und Mastercard).
Benefits of a TASSIMO Machine Subscription
Enjoy the benefits of a coffee machine subscription and receive a TASSIMO machine for only £1,-! Whether you want to treat yourself and discover new coffees with great discounts, or simply tick coffee off your weekly shopping list, sign up for one of our automatic TASSIMO Machine subscriptions today.
With the TASSIMO Machine subscription you can receive a coffee machine for the cheapest price. This way, we make lovely TASSIMO coffee available for everyone. If you've been hesitant to sign up for a Coffee Machine Subscription, you don't have to worry anymore. Coffee Machine subscriptions make it much easier and more affordable to enjoy high-quality coffee pods designed expressly for our reputable TASSIMO Coffee Machines.
Coffee Machine Subscription as a gift
Are you looking for a present for a coffee lover? A TASSIMO Coffee machine subscription would be a great gift. Our subscriptions are convenient for coffee lovers as they receive a TASSIMO coffee machine and automatic pod delivery.
Who doesn't like delicious coffee delivered straight to their door? It's a great way to help your friends or loved ones expand their horizons beyond the supermarket coffee aisle. To give you some more gift ideas, find out a list of our favourite coffee gifts to surprise your coffee lover. We have a selection of coffee pods, machines or even accessories that can be a perfect gift.
FAQ
Info
Was ist das TASSIMO Maschinen Abo?
In nur wenigen einfachen Schritten bringen wir dir deinen TASSIMO Kaffee direkt nach Hause! Du erhältst entweder die TASSIMO Happy oder die TASSIMO My Way Kaffeemaschine für nur 1 €. Basierend auf deinem täglichen Konsum kannst du das richtige Abo für dich wählen.
Gehört mir die TASSIMO Maschine nach einem jahr?
Ja!
Kann ich aus allen Kaffeesorten und Heissgetränken wählen?
Ja, du kannst aus unserem gesamten Sortiment auswählen. Die Anzahl der Getränke basiert auf deinem gewählten Plan. Dabei zählt die Anzahl der Packungen und nicht der Anzahl der Getränke in einer Packung, du kannst also jede beliebige Packung wählen.
Warum muss ich ein Konto erstellen?
Es ist uns wichtig, dass wir dich während der gesamten Laufzeit des Abos über den Status deiner geplanten Bestellungen informieren können. Außerdem kannst du deine Kaffeeauswahl bearbeiten, den Status deines Abos prüfen und Angebote erhalten, wenn du ein Konto hast.
Sind die TASSIMO Maschinen-Abos kompatibel mit anderen Aktionen?
Unsere TASSIMO Maschinen-Abos werden speziell auf dich angepasst und sind nicht mit anderen Werbeaktionen oder Aktionscodes kompatibel.
Wer kann das Abo bestellen?
Die Abos sind für Personen über 18 Jahre und mit einer Lieferadresse in Österreich bestellbar. Weitere Informationen findest du in unseren Allgemeinen Geschäftsbedingungen (Link).
Lieferung
Muss ich die Lieferkosten bezahlen?
Bis zur letzten Zahlung deines TASSIMO-Abos fallen für dich keine Lieferkosten an.
Kann ich wählen, wie häufig ich meine Bestellungen erhalten möchte?
Die Häufigkeit hängt vom jeweiligen Plan ab: alle 3 Monate für TASSIMO Starter, alle 3 Monate für TASSIMO Fan und alle 2 Monate für TASSIMO Lover.
Wie lange sind die voraussichtlichen Lieferzeiten?
Deine erste Bestellung wird innerhalb von 3-5 Werktagen ab deiner Anmeldung für das Kaffee-Abo geliefert. Je nachdem welchen Kaffee-Plan du gewählt hast, erfolgen alle weiteren Lieferungen alle 3 oder 2 Monate. Zum Beispiel:
Du gibst deine Bestellung am 10. des Monats auf, es gilt die Standardlieferung von 3-5 Werktagen. Wiederkehrende Bestellung: Deine Zahlung wird am 10. Tag des 3. oder 2. Folgemonats abgerechnet, je nach deinem Maschinen-Abo. Sobald wir deine Zahlung erhalten haben, wird deine Bestellung bearbeitet und innerhalb der Standardlieferzeit von 3-5 Werktagen geliefert.
Kosten
Wie viel kostet das Abo?
Wenn du unser Abo abschließt, kannst du eine TASSIMO My Way oder Happy Maschine für nur 1 € erhalten.Die Maschine wird mit deiner ersten Kaffeebestellung geliefert. Die wiederkehrende Gebühr variiert je nach gewähltem Plan:
TASSIMO Starter Abo: 59,97 € alle 3 Monate (das entspricht einem Betrag von 19,99 € monatlich, insgesamt 239,88 € für ein Jahr)
TASSIMO Fan Abo: 89,97 € alle 3 Monate (das entspricht einem Betrag von 29,99 € monatlichinsgesamt 359,88 € für ein Jahr)
TASSIMO Lover Abo: 79,98 € alle 2 Monate (das entspricht einem Betrag von 39,99 € monatlich, insgesamt 479,88 € für ein Jahr)
ÄNDERUNGEN
Kann ich meine Kaffeeauswahl je Lieferung einfach ändern?
JA! Du kannst deine Auswahl für jede Lieferung ändern, je nach gewähltem Abo bedeutet dies entweder all 3 oder 2 Monate.
Du kannst deine Kaffeeauswahl bis zum jeweils nächsten Versanddatum ändern. Das kannst du im Bereich "TASSIMO Mein Konto" tun, nachdem du dich angemeldet hast. Klicke hier um dich anzumelden. Nachdem du dich angemeldet hast, findest du im Abschnitt "Kontodetails" den Tab "Maschinen-Abo verwalten".Hier findest du dein Abo und kannst deine künftigen Bestellungen verwalten.
Kann ich mein gewähltes Abo einfach ändern?
Nachdem du dich für ein bestimmtes Abo entschieden hast, kannst du dieses nicht mehr ändern. Du kannst jedoch immer deine Kaffeeauswahl für jede Lieferung ändern.
Kann ich mein Abo kündigen?
Die Maschinen-Abonnements werden für eine Dauer von 12 Monaten abgeschlossen, nach dieser Zeit läuft der Vertrag automatisch aus. Du hast einen gesetzlichen Anspruch auf Widerrufung deines Maschinen-Abonnements innerhalb von 14 Tagen nach Erhalt deiner ersten Bestellung (Maschine und/oder Kaffee).
ZAHLUNG
Welche Zahlungsmethoden kann ich nutzen?
Um ein TASSIMO Abo abzuschließen benötigst du eine Kreditkarte. Kreditkarten (Maestro Kreditkarte, VISA und Mastercard) sind die einzige Zahlungsmethode, da wir den Abo-Betrag alle 3 oder 2 Monate automatisch von deinem Bankkonto abbuchen können müssen. Bitte stelle sicher, dass deine Kreditkarte für ein weiteres Jahr gültig ist, wenn du dich für ein TASSIMO-Abo anmeldest.
EC-Karten sind leider keine zulässige Zahlungsmethode für ein Abo, da wir deine Zahlungsangaben nicht für automatische wiederkehrende Zahlungen speichern können.
Mein TASSIMO Abo scheint gekündigt worden zu sein. Was kann ich tun?
Wahrscheinlich ist deine Kreditkarte abgelaufen. Wenn das der Fall ist, haben wir dir eine E-Mail gesendet, damit du deine Zahlungsangaben aktualisieren kannst. Wenn du deine Zahlungsangaben nicht innerhalb von 14 Tagen aktualisierst, wird dein TASSIMO-Abo gekündigt, wobei eine Kündigungsgebühr gemäß der allgemeinen Geschäftsbedingungen der TASSIMO Abos anfällt. Sollte deine Kreditkarte nicht abgelaufen sein, wende dich bitte an unseren Kundendienst.
Meine Zahlungsmethode aktualisiert sich nicht.
Wenn du deine Zahlungsmethode kürzlich aktualisiert hast, beachte bitte, dass die Änderung nicht sofort sichtbar ist. Deine neue Zahlungsmethode wird innerhalb von 24 Stunden nach der Änderung überprüft und aktualisiert.
HILFE
Mein Abonnement-konto wird als gesperrt angezeigt
Es kann vorkommen, dass ein oder mehrere Artikel deiner Bestellung nicht vorrätig sind. Um dein Abo neu zu starten, kannst du deine nächste Lieferung bearbeiten und die nicht vorrätigen Produkte ersetzen.
Das kannst du im Bereich "TASSIMO Mein Konto" tun, nachdem du dich angemeldet hast.
Bitte klicke hier.