10 minutes + 1 hour in fridge
1 L'OR Espresso Splendente
For many people, Christmas isn't complete without eggnog. Because this is an important holiday tradition, we've created a Vegan Eggnog recipe so your vegan loved ones and friends can enjoy it too. We've also made this a non-alcoholic eggnog recipe so that guests who don't enjoy alcohol can still have fun drinking this virgin vegan Eggnog! This way you know that all of your guests can join in the festivities.
Ingredients
For 1 Vegan Eggnog Recipe:
1 Espresso T DISC. Why not try L'OR Espresso Splendente
1 cup of raw cashews
1 Teaspoon vanilla extract
½ teaspoon of ground nutmeg
¼ cup sugar
¼ Teaspoon of cloves
½ Teaspoon cinnamon
3 cups almond milk
Ground cinnamon (optional)
Vegan whipped cream (optional)
Extra nutmeg (optional)
You'll need
1 Espresso capsule
1 Bowl
1 Teaspoon
1 Blender
How to make Vegan Eggnog
Start by bringing 3 cups of water to the boil.
Pour the boiling water over the cashews and let them sit for 5 minutes.
Now, drain the softened cashews in a sieve.
Put the vanilla, sugar, nutmeg, cloves, cinnamon, and almond milk into the blender together with the softened cashews.
Blend until smooth and taste, add a bit more sugar if you like it sweeter.
Put the Vegan Eggnog in glasses and fill the glass about three-quarters full.
Let it rest in the fridge, uncovered, for at least 1 hour.
Fill each glass about ¾ full with the Vegan Eggnog.
Put a dollop of vegan whipped cream on top, and dust with freshly grated nutmeg and ground cinnamon.
Switch on your TASSIMO machine and insert your preferred Espresso T DISC.
Place the Espresso cup in the proper place and push the button to brew.
Use a fresh T DISC for each espresso you want to prepare, for 6 guests you'll need 6 espresso T DISCs.
Serve the Espresso along with the Vegan Eggnog.
Your Christmas guests will love this vegan egg nog recipe. This delicious virgin eggnog will be perfectly complemented by a cup of hot Espresso. Now, sit back and enjoy!
FEELING INSPIRED?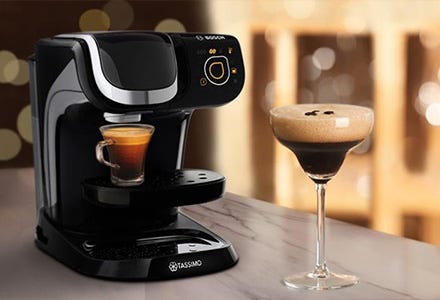 Non-alcoholic Espresso Martini
Coffee cocktails are gaining popularity. No wonder: they're tasteful, energizing and an impressive appearance. Create this Virgin Espresso Martini and impress your guests.
Creamy Toffee Cappuccino recipe
Toffee and coffee are a match made in flavour heaven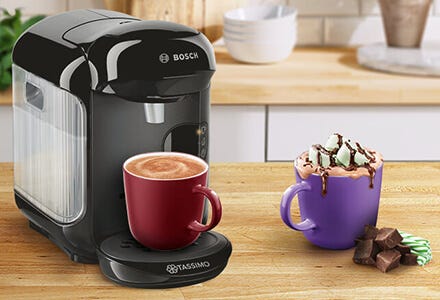 Peppermint Hot Chocolate recipe
This drink will give a festive touch to your day. Easy to prep. Beginning to feel like Christmas already?