1 Coconut White Chocolate Latte.
Who doesn't love a latte? Now just imagine how delicious a chocolate mint latte would be. That little fresh touch of mint gives your white chocolate latte something extra special with the combination of fresh mint and creamy chocolate. Mint Choco Latte is also the perfect Christmas treat to serve your friends and family over the holidays.
Ingredients
For 1 Mint Choco Latte:
You'll need
1 mug or Latte glass
1 Tablespoon
How to make Mint Choco Latte
Choose a nice mug for your Mint Choco Latte.
Put 3 tablespoons of mint syrup into the mug
Switch on the TASSIMO Machine and put the T DISC in it
Place the mug with the mint syrup in the proper position
Once the Latte is ready, top it with the whipped cream
If you like, garnish the whipped cream with a few white chocolate chips
Now, finish with a sprig of fresh mint to decorate your Mint Choco Latte.
The white chocolate chips are completely optional, add them your Mint Choco Latte if you'd like, but it's just as good without. This Chocolate Mint Latte is also a great recipe to serve with a festive dessert.
FEELING INSPIRED?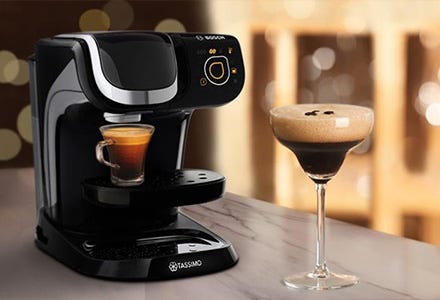 Non-alcoholic Espresso Martini
Coffee cocktails are gaining popularity. No wonder: they're tasteful, energizing and an impressive appearance. Create this Virgin Espresso Martini and impress your guests.
Creamy Toffee Cappuccino recipe
Toffee and coffee are a match made in flavour heaven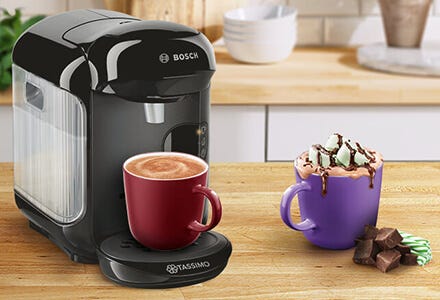 Peppermint Hot Chocolate recipe
This drink will give a festive touch to your day. Easy to prep. Beginning to feel like Christmas already?