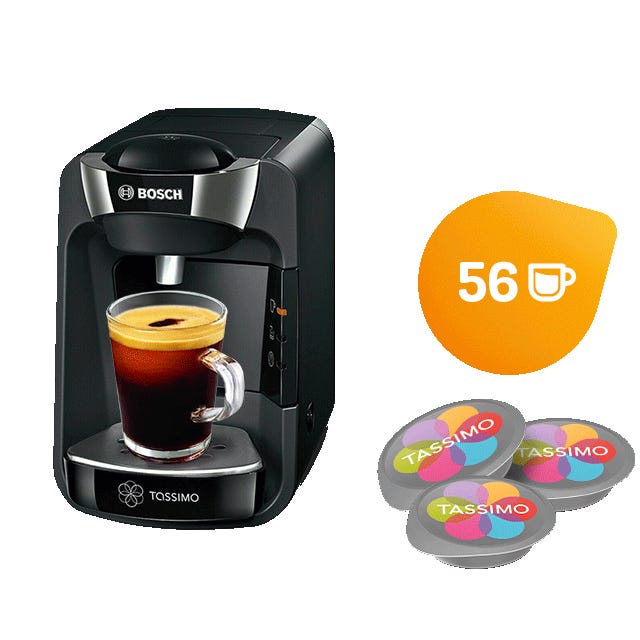 Voucher info
This machine offer cannot be combined with any other offer or promotion code.
Voucher info
Enjoy a great discount when buying this TASSIMO machine bundle. This bundle contains two items: TASSIMO SUNY coffee machine and 5 packs of T DISCs. You can immediately start using your new TASSIMO machine and discover your favourite T DISCs. Get this deal now!

✓ Costa Americano ✓ Costa Cappuccino ✓ Kenco Americano Grande ✓ L'OR Latte Macchiato ✓ Cadbury Hot Chocolate

Register your machine and get 2 x £10 coffee credit for your next order. Terms and conditions apply.

Please note that packs may differ according to stock levels.

Please note that due to higher demand during this Black Friday period, you may experience a delay in receiving your order. We will always endeavour to have your order with you within 3-5 days, however during this period you may see longer delivery times. Once your order is placed you will receive a tracking link to follow your order. If your order has not been delivered within 5 days of receiving your tracking link please contact us so we can assist you further.


What's in this bundle?
Suny Mystical Black - Coffee Machine

Cadbury Hot Chocolate

8 Servings

Costa Cappuccino

8 Servings

Costa Americano

16 Servings

Kenco Americano Grande

16 Servings

L'OR Latte Macchiato

8 Servings