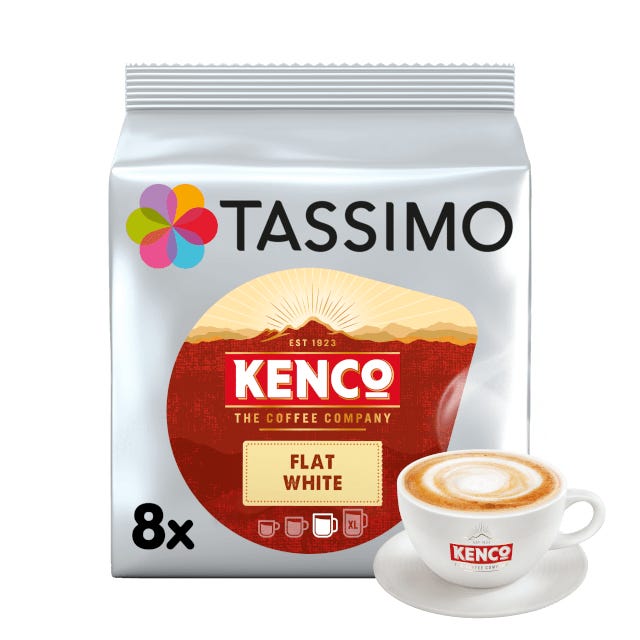 Cup Size
This rich, full-flavoured coffee combines expertly roasted coffee with a smooth, creamy textured milk topped with a thin layer of foam. With less milk than a latte, the flat white has stronger coffee intensity and is specially designed and brewed to perfection. The TASSIMO Kenco Flat White is a perfect balance between velvety steamed milk, and rich intense coffee.
Nutrition information
Per 100g
Per serving (235 ml)
% per serving (235 ml)
Energy
130 kj / 31 kcal
305 kj / 73 kcal
4%
Fat
2g
4.8g
7%
(of which saturates)
1.4g
3.2g
17%
Carbohydrate
5.9g
7.5g
2%
(of which sugars)
2.5g
5.8g
6%
Fibre
0.1g
0.3g
Protein
0.3g
0.8g
2%
Salt
0.11g
0.25g
4%
* Reference intake of an average adult (840kJ/2000 kcal)
**Ready to consume
Ingredients: Cream (from milk) (43%), roast and ground coffee (25%), sugar, milk protein concentrate, water, milk minerals, salt, thickener (E414), acidity regulator (E331).
Nutritional Information